Archives
now browsing by author
Posted by:
WebMaster
| Posted on:
April 2, 2017
I spent a great weekend up in Norwich with Lois. I took the day off on Friday and travelled up by train (having booked tickets online earlier in February meant that the whole return journey only cost me £11.60!). Friday we wandered around Norwich a bit, went into the Cathedral which is gorgeous I enjoy imagining may have been there in years gone by, worshipping the same awesome God we worship now. Lois lives 40mins walk from the centre so I was pretty wiped out by the time we got to hers! She lives with 4 other girls I only met Claire and Naomi who were very lovely and welcoming! We later went and had a look round the campus at UEA where Lois is in her second year studying English Literature. Having not really been on a Uni campus before it was a very surreal experience! Like a whole little world of students!! It was nice to see where she is and walk around the lake in the grounds. Friday evening we enjoyed a girlie night in watching a film with a bottle of wine, crisps and Jaffa cakes! Just what I needed after a busy week!
On Saturday Lois, Claire and I braved the weather and took the train to Cromer. It was a bit grey and windy but we had a great time walking along the beach and then finding a little fish and chip restaurant. I love being by the sea its always so calming and its one of the places that I feel closest to God. I really appreciated the time just to reflect a bit. In the evening we went to Loiss local pub with Claire and Naomi for a chat which was really lovely.
Sunday I went to church with the girls they go to Eternity Norwich (40mins walk in the opposite direction!). I love going to other churches to see how different people do things and to relax and worship God without anyone knowing who I am! I really enjoyed the service didnt agree with everything that was said, but I quite like that gets me thinking about why I think what I think! After Church we went home and had Pizza, yum! We wandered to the park and discussed motorised scooters and nicknames! Was cold but sunny lovely weather to be out in! My travel home was a little bit of a mission with replacement buses, but was home safe and sound by 9.30pm.
It was really lovely to see Lois and spend time chatting and being girlie! I really appreciated the break being somewhere completely different, with different people and being able to relax. It was nice to take some time out of the normal schedule to reflect on what Im doing and just get some space.
This week we are in Oban High School. We arrived in Oban about 8pm last night for food and then off to our hosts. Myself and Becca are staying with Rob, Marion, Ruthie and Monty (the dog). Ruthie is 11 and has given up her room for us which is very kind of her!
Not an early start this morning, woop!! Breakfast to the most gorgeous view out over towards the Isle of Mull and then into Oban High School for 8am to unload and set up. Its a nice stage and hall although the acoustics are a it tricky! Had assembly and 3 lessons today. The pupils are really friendly and enthusiastic which is great, a couple of good Q&A sessions where we got to share testimony.
After school we went on a bit of a sightseeing trip round Obanits so beautiful!!! It was nice to get out in the air and have a bit of a walk and enjoy a bit of Gods creation! Had some team photos taken too. Then we were off to The Well which is our base this week a unit owned by H2O (Hope To Oban very active youth ministry team). It has very comfy bean bags!! We had a debrief and dinner and then back to our hosts for the evening. Its going to be a busy week, doing things most evenings and our gig is on Thursday night, 7pm-9pm. Your prayers are much appreciated!
Pregnancy Related Problems and Fitness Guide
Pregnancy brings lot of joy and happiness to woman, but at the same time it also brings many problems. Your body goes many changes and as a result, you get body pain, nausea, vomiting and sleep deprivation. If you are having problem with either back pain or sleep during pregnancy and with all your efforts You are not able to overcome it, then the best thing you can do is buy a  top brand pregnancy pillows of UK. These pregnancy pillows will certainly help you greatly by giving support to your back. Most women who uses pregnancy pillows or full body pillows have said the problem of back pain and less sleep has almost gone. They can now comfortably sleep for longer duration using pregnancy pillows.
Our bodies can react very differently to external circumstances that we encounter and this includes exercising. There are definitely benefits for working out but along with the positive, there is always some negative. These are some workout side effects that may not immediately come to mind.
Yawning is a response that many people experience, especially in the beginning of a workout. It used to be thought that yawning would increase blood flow to the brain but later studies found this theory to be untrue. Nobody is completely sure of why we yawn and it is a natural reaction to yawn during the beginning of a workout. However, excessive yawning through the duration of your workout is actually a sign of an issue with blood pressure. Get this checked out by a doctor if you yawn excessively.
If you've worked out in a gym for a while, you've either heard someone pass gas or experienced accidentally letting one go yourself. Although, it can be embarrassing, its totally normal. Any exercise that focuses on the core will build pressure in your stomach and increase the chance of this possible embarrassment. My advice if it does happen to you, just laugh it off because it is common and it has happened to many other people as well. Avoiding certain foods, like dairy, beans and broccoli before a workout will decrease the chances of you letting one go in the middle of your workout.
While working out, especially outdoors, you may find you get a runny nose. This is also common because "exercise stimulates the part of your nervous system that controls the secretion of your body's glands – including the mucus glands in your nose." When you exercise outdoors, the runny nose could be increased due to a response to pollen, or temperature. If its cold, this increases mucus production because your nose has to work harder to warm up the air.
Heartburn is also commonly experienced during exercise. Its just an after-effect of what you ate beforehand and the movement of exercising, especially running, can cause whats in your stomach to move up into your esophagus. This means acid reflux and heartburn. To avoid heartburn during your workout, avoid dairy before the gym and also, allow at least 2 hours after a meal before you start your workout. Tums or any antacid will also help if food choices and timing isn't working in your favor.
Cramps are never fun and most people have experienced one. They're most likely caused from electrolyte imbalance, or dehydration. Therefore, before any workout, you want to make sure to hydrate and should be drinking throughout your workout as well as throughout the day. Any exercise drink, like Gatorade will help during your workout to replenish those lost electrolytes. After a workout, eating bananas are also a great way to fight off cramps.
Baby Items For First Time Mother
There are many items that you should have if you have a baby. This item will certainly help you and your baby feel happy and have lots of fun. Here are our list of top baby items that every mom should buy in UK.
Jogging Stroller

After 9+ months of pregnancy a lot of mothers find themselves more than ready for exercise or time outside. But going out with baby and doing exercise of jogging is not an easy task when carrying a baby. Here a good jogging stroller will be very helpful. Yet after getting the stroller out of all the packaging, I couldn't even figure out how to fold it. With so many different types of strollers available, though, it can be hard to tell which one is right for your family. Often even more helpful than a user's manual, many stroller company websites feature virtual test-drives. A stroller you can jog with is an investment in your health and mental well-being that happily, is a form of exercise you can share with baby once they have developed strong enough neck muscles to handle the stress of jogging.
Twenty minutes later, stroller folded, I discovered it barely fit into the trunk of my car.
Consider where you live, where you expect to push your stroller, and how much you want to spend.
You can watch videos of parents putting a stroller through its paces: walking, running, navigating city sidewalks, and boarding airplanes.
Walk your favorite strollers through the store before making a purchase.
I could take my baby to the mall, but anything I purchased wouldn't fit in the trunk.
If you plan to take your child on long urban walks, you'll need a stroller that's sturdy but easy to maneuver over curbs, in and out of shops, and through on public transportation.
But if you plan to buy online, be sure to check out a stroller at a retailer first. Check the height of the handles to be sure they are comfortable for you. Once your baby can support herself, use the stroller alone as you would a traditional stroller. The most practical purchase is a regular stroller with a seat that folds back, so you can continue to use it in the upright position as baby grows. Umbrella strollers are great for parents always on the move. Taller parents should look for strollers with adjustable handle heights so they don't have to stoop. If you are an average-sized man, this is probably not going to be an issue for you. You can log onto Web sites to get a feel for what's out there in your price range, but eventually you should go to a store to do test runs. Lightweight, compact and easy to fold, these work especially well if you're traveling or live in a city dwelling where you're likely to encounter public transportation and stairs.
Choose a stroller that makes corners smoothly, especially if you'll use it in crowded places. But if, say, you and your (shorter) wife will both be using this stroller for running, you'll want to look for one with an adjustable handle. Consider whether you may also want a jogging stroller and/or an umbrella stroller once baby can sit up (more on those later), in which case you don't want to overspend on this initial purchase. If you're considering an umbrella stroller, make sure it has the proper harness required for your child's age. Few situations are more frustrating than trying to do a decent run with a stroller handle that doesn't fit. Your arm swing is already restricted by pushing the stroller; if you have to hold your hands unusually high as well, you'll be much more tempted to hire a babysitter next time. Many companies offer a stroller with an adjustable height handle and while some accomplish this better than others, all were acceptable to our testers.
Bunk Beds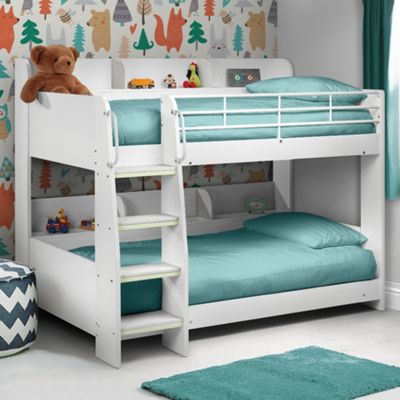 For those parents who have small house and have more than one kids, for them the best bunk bed is a great thing to buy. Your kids will definitely love to sleep in bunk beds. The first aspect to consider is the build material. Bunk beds are a great solution to many problems. Why are you buying this bed? Although the suitable minimum age to use a bunk bed can vary greatly depending on a child's maturity and development, using the top bunk or a raised bed is not recommended for children under nine years old. Bunk beds are comprised of either wood or metal construction, no matter the design or style.
Your kids have been begging you for a more fun option at bedtime.
Is it going to be used by a child or an adult, a boy or a girl, one person or more?
When putting a bunk bed together make sure the guardrails are securely installed on all four sides of the bed or top bunk and with the correct spacing for openings.
Let's look at examples of each before moving on to the fun stuff.
Your family has expanded (but your bedrooms haven't). Maybe your cabin or summer house needs to sleep more without sacrificing space.
Will you put it in the main bedroom, kid's bedroom, guest room? Metal Bunk Beds are a popular choice for most bedrooms. Wood is the most popular material for crafting bunk beds by some distance. With our wide selection of sizes you have more options than ever before. Let's examine a few illustrations. Sleek, sturdy, and simple in design, these bunk beds fit perfectly in compact bedrooms. It offers extreme versatility in shape, style, and color, as well as a rich, sturdy construction that ensures a complicated structure like the bunk bed lasts for years. Like other furniture purchases, you will want to consider style, color and price. For two smaller children, a standard, twin over twin bunk bed will in all likelihood work just fine; however, if one of the kids is significantly older, she/he will probably need more sleeping space, in which case a twin over full configuration would be more appropriate. Our metal bunk beds are easy to maintain and clean.
Make sure that your new bed will fit into your budget and your home. The same arrangement could do great in sleepover situations too, as well as for accommodating guests. Choose from a variety of traditional colours, including silver, white or black, or more colourful options including blue and pink. However, your bunk bed has to serve a more important function than just looking great. Once you have successfully completed the issue of usage; another important point of consideration is your available space.
After all, this is where your loved ones are going to be spending 1/3 of their day. Bunk beds can be quite space-consuming, or could be used as a space saver too. To help, you can see below guides to selecting, assembling and most importantly the safety of your bunk beds. It is very much important to think about it at the initial stage of the buying process. While deciding about the size of bunk bed take height, length & width into due consideration. For Instance, if the top of the roof is too low it limits the height of bunk beds. If your room is too small it certainly limit the width as well length of bunk bed.
Wooden Toys

Your child will love to play with wooden toys and will never get bored. There are many top quality wooden toys available in UK, that are not only cheap but also last long. There are few things that seem as natural as the warm feel of wooden toys. The idea that less is more is a truism that has been passed down through the ages. Little legs are go! As soon as babies can reach and grab, they'll get a thrill from textured toys that are safe to test out in their mouths. Around for hundreds, if not thousands of years, wooden toys come in all shapes and sizes, from farm animals to full kitchen sets for any child to enjoy.
When thinking about toys, this old wisdom remains as true as ever. Your miniature explorer is officially a toddler – a bundle of energy and curiosity – enjoying newfound freedom. It's also tummy time, and cloth interactive activity mats are perfect for that. Some environmental pundits credit buying used or second-hand toys as being a more environmentally friendly decision than buying new, citing the reduction in the amount of toys that end up in landfill when toys are recycled. There are innumerable types of modern toys hugely advanced in their functions.
Toddlers begin to talk and express themselves, as well as becoming much more active as they learn to run, jump and climb. Disks and keys on a ring give them something to hold, shake and listen to, and teething toys always win raves. "At 6 months, all those teething toys come into play as they become more orally fixated and they're cutting teeth," says Adam Cohen, a kid product review site. Unlike their plastic counterparts, many wooden toys are biodegradable, reducing their landfill footprint even further. One drawback to this increasing complexity is the diminishing freedom of imagination that toys sometimes present to children. Their curiosity will know no bounds, so choose toys to extend their physical abilities and feed their imagination.
However, for some people, buying a toy can be a serious pursuit. Experts agree that even babies benefit from toys. Complex functionalities often dictate that play is structured along very specific lines. Your baby has also started using objects as tools, pushing a ball with a stick or chasing the carrots around his plate with a spoon. How do you know if the toy you are buying is appropriate for the child you have in mind? Infants use their senses to learn about their world. They may seem like messy little people, but babies love organisation. He's also more interested in interactive games. How do you know that your gift will bring years of valuable play and excitement for the special boy or girl in your life? For the first few months of life, babies are unable to grasp objects with their hands, but enjoy exploring with their ears and eyes.
At 6 to 12 months your little one is starting to understand the differences between shapes and colours. Tickle him and let him tickle you back. "Talk" on the phone, then pass it to him so he can babble and hand it back to you for another round. Therefore, toys that make noise or feature high-contrast, black-and-white or brightly colored images are especially appealing to newborns and young infants. Posting shapes through slots is double the fun at this age, as they're also starting to realise the difference between "hidden" and "gone". Sorting toys can help to develop hand-eye coordination and fine motor skills, as well as helping to teach about sorting and matching.